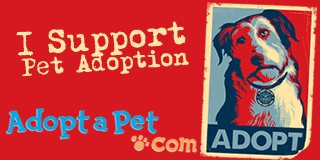 To help find homes for millions of shelter dogs waiting to be adopted, 
Shepard Farley
, the artist who made Barack Obama's face an icon on posters and stickers, has made an icon out of an American mutt. Are you looking for a pet? Click on Farley's and 
Adopt-a-Pet.com's
 image above to find a shelter pet near you.
You can download the "Mutts Like Me ADOPT" image for creating posters, stickers, T-shirt, badges and more at this 
link.
Creative fun for your family
Spread the word about adopting shelter dogs and have fun doing an artsy family activity. Click on this 
link
 for printable PDFs, a coloring page for kids, and much more. You can post your Mutts Like Me artwork at home, work and school. Of course, ask permission before posting your the Mutts poster because posting this image where it is not welcome will only hurt homeless pets.